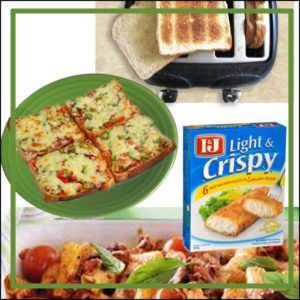 A couple of months of crazy days has seen us eating some "creative" meals of late.
My main focus has been to feed us reasonably healthy meals that do not require too much in the way of preparation or fuss. Some days there may have been time to do things like cook a roast for a couple of hours.  Other days were "we need to eat in the next 30 minutes" type days.
We very rarely eat takeaway, as mostly we find we can do better at home, cheaper, faster and healthier. We do however look to fast food for concepts.  I have seen some blog/facebook groups that term this as "Fake-away" or "Takeaway at Home".
Often our version of fast food turns into a "clean out the fridge special".  Some "recipes" for Clean out the Fridge specials are…
A packet of mince ( which we buy in bulk and freeze in 250g pieces, whatever veges are in the fridge simply chopped and fried together with a bit of beef stock made from powder and a dollop of tomato paste get a tin of tomatoes added and simmered for 15 minutes or so while some pasta cooks sees a satisfying meal on the table in well under 30 minutes and reduces wasted food.
A similar dish can be done with veges and a cheese sauce added to a tin of tuna and pasta or rice,
 Veges sauted with a bit of butter or oil and add some chunks of beef, lamb or chicken. Pour over 2 cups of water with a tablespoon of gravy powder, add any herbs you like and simmer until the meat is pull-apart tender. This one might take about 50 minutes to an hour.
Other ideas for "Fake-away" meals include..
Make your own pizzas. This is great for using up leftover deli meats.  You don't even need a "proper" pizza base for these.  Put two pices of bread in the toaster together so just one side the bread gets toasted.  Spread some tomato paste or sauce onto the untaosted side.  Pile the taost nice and high with yummy toppings and sprinkle over some tasty cheese.  Pop them under a hot grill until the cheese is melted and brown.  Cut each slice of "pizza" into 2 and serve.
Fish and Chips are a good standby to have in the freezer. Frozen crumbed fish fillets and frozen chips are simply put in a preheated oven for 25-30 minutes and "voila" dinner in half the time it would take to drive to the takeaway, wait for the order and drive home.
Burgers are easy to make with either rolls or bread. Serve with chips from the oven
While all of these ideas are fast and affordable, the easist way to have superfast meals ready to go in to always cook far more than you need and have meals ready to go in the freezer.  We have always got something for those days when we really just could not bothered.
What are your favourite "Fast, Fuss Free" meals??