Cheats "sort of" Strog.
We are in the process of running down our freezer in preparation for 3 weeks away.    (while we are away, I will unplug the freezer and let it completely defrost, then give it a good clean out in the new year)
I have been trying to mix the contents of the freezer around a little, so we don't end up with sausages for 7 days straight 🙂 We had a fair bit of mince left in the freezer and I was looking for something a bit "different" to do.
I came up with the idea of a Beef Stroganoff type dish with little meatballs – but not a "Swedish Meatball – Ikea" dish.
Obviously, by the look of this plate, it was a hit.
So without further ado.. here is my recipe for

"Stoganoff Meatballs"
250 g Minced Beef
1 tsp Mixed Herbs
2 tsp Tomato Paste
Salt, Pepper and Olive Oil
1 Large Onion – finely diced
Garlic Cloves ( as many as you like)
Fettucine, Spaghetti or other pasta
2 Large Mushrooms – sliced
¼ cup Worcestershire Sauce
1 Beef Stock Cube
½ cup Sour Cream
¼ cup grated Parmesan Cheese ( plus some for garnish)
Parsley for garnish
1: In a bowl combine Mince, Herbs, salt, pepper and ½ the tomato paste.
Mix very well until combined. (I use my hands)
Using a teaspoon, scoop out heaped spoonfuls and roll them into balls.
( I make mine about the size of a large marble)
Place the meatballs in the fridge to firm up.
2: In a non-stick pan heat a tablespoon of oil and sauté one large onion and a garlic clove (or 3 if you love garlic as we do) until just starting to caramelise. (You don't want too much colour on them or your sauce could be a little bitter)
Remove the cooked onions and place them aside.
3: In the same pan, add the pre-prepared meatballs and gently fry until cooked almost through. (Drain any excess oil as the mince renders it out.)
4: When the meatballs are cooked, remove them from the pan and put them aside with the onions.
At this stage, put a pot of salted water on to boil and cook whatever pasta takes your fancy (we had some curly fettuccine noodles in the pantry)
5: Still in the same pan, add 2 sliced mushrooms and sauté until softened and golden.
Turn the heat down to medium and add ¼ cup of Worcestershire sauce, one beef stock cube and the other 1/2 of the tomato paste.
Stir gently until the sauce comes to the boil.
Make sure you scrape all the lovely tasty bits off the bottom of the pan.
6: Add in ½ cup of sour cream and ¼ cup of grated parmesan cheese. Stir to combine and melts.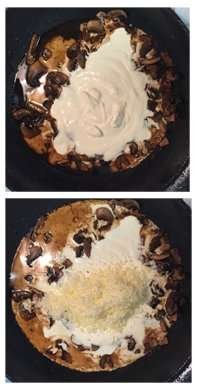 7: Return the onions and meatballs to the sauce and simmer until everything is heated through.
Finally, stir through the cooked pasta.
8: Serve onto plates, sprinkle over some chopped parsley and a few shavings of parmesan.
Enjoy!!