"Sunshine Cash" is the opposite of saving for a rainy day.
For me, Sunshine Cash is the money I earn on top of my regular income.  It is not intended to pay the bills or be saved in the emergency fund.  It is FUN MONEY!!  However, it does trickle in sporadically depending on what I am pursuing at the time, so I have a separate bank account for it.
Making the dollars s-t-r-e-t-c-h
It is not so much the saving of the amount, as maximising the value of it.  I want every sunshine dollar to be a blazing sunbeam!!!
example: If I choose to spend my Sunshine Cash, I might choose a fine dining restaurant that is promoting a two-for-one deal.  Or we might choose to buy some really expensive ingredients and cook a restaurant quality meal at home, complete with the "good" china and crystal.
Daily deals sites are brilliant for eating out. We often use Groupon, Living Social or Our Deal to have a meal out at restaurants that we would not think of.
Use deals for gifts.
Daily Deals sites also have some good ideas for gifts too.  Just last Christmas I bought these awesome hampers for just $39.00 !!!
I ended up buying 6 of them.  The recipients we MOST impressed with a (what they thought) was a very expensive gift.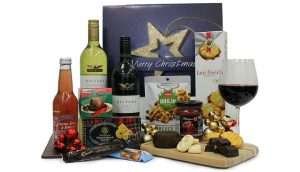 Have a clothes swap party.
Instead of going out shopping, get your girlfriends together (with a few snacks and glasses of wine) and host a clothes swap.
Stay in for a movie marathon.
Love going to the movies but don't like the high price tag.  Host a movie marathon at home. For a "large screen" experience, hire a projector (or borrow one from work if your department has one.)  Make some popcorn and ice cream snacks and enjoy the saving.
Always look out for deals at the supermarket.
I am not talking extreme couponing here. I am saying, while you should always shop with a list. Don't be a slave to the brands on that list. eg; Instead of putting Cornflakes on the list, just put Cereal.  Have a look in the aisles, you might just find something different at a cheaper price. Same with fruit and vegetables. Don't just write "Kale" think "green leafy" you might find baby spinach or Asian greens at a fraction of the cost.
Look for deals on gift cards.
Check your autoclub to see if you can access discounted grocery cards. I regularly get our major supermarket cards at 5% discount. These are "ecards" so there is not even any postage cost. 5% on 200 grocery bill is $10.
How do you maximise your dollars?
---