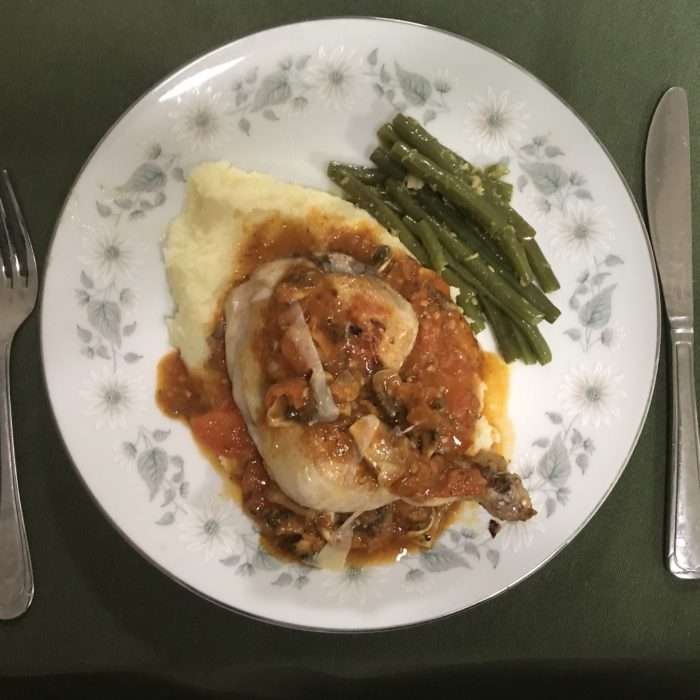 Part of the appeal of eating out is often, for us ladies, the fact that we don't have to cook.

Luckily hubby and I enjoy cooking so that is not such an issue for us.   We tend to look for "something different"
Different flavours, different pairings, different view.

We were wandering along our local restaurant strip recently and neither of us felt the compulsion to try anything (and subsequently spend $100 for a "blah" experience).    One restaurant has "Italian Lemon Chicken with Garlic Beans"  I have had this dish before and it is nice so when I pulled some chicken Maryland pieces out of the freezer for dinner, I thought that is what I will make.

The other appeal of a meal out is the beauty of the meal on the plate.  We all eat with our eyes first and it does make a difference to the most basic of meals if you take just a little time to present it on a plate with care.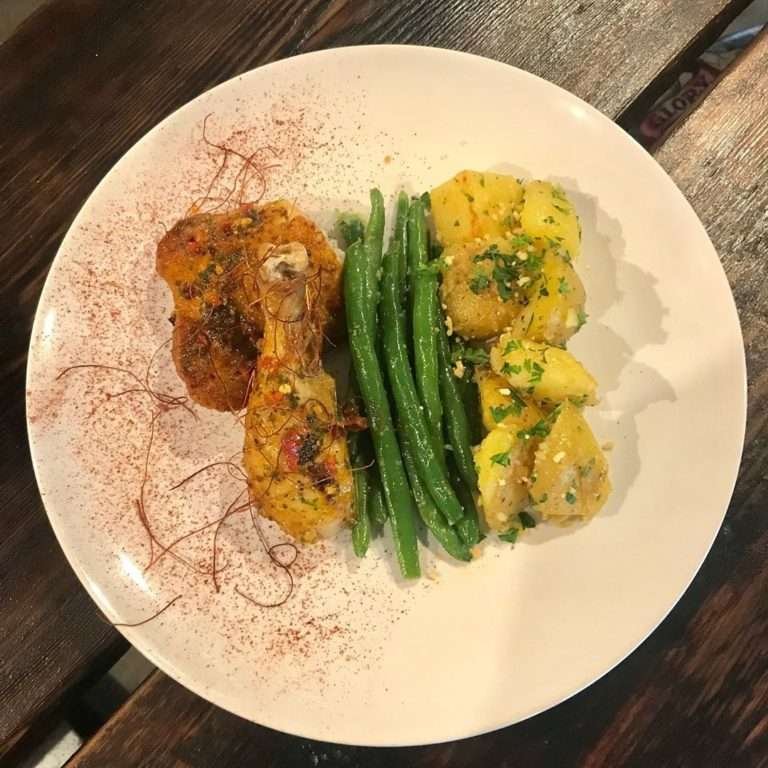 I like to look at Instagram or Pinterest for plating ideas.  The rise of "FoodPorn" Instagrammers means there are loads of examples of beautiful plates of food.  You don't need to copy them verbatim, but take some clues as you why a dish takes your fancy and keep it in mind when serving your meals.

I found this image of a nice chicken dinner to provide some inspiration for my "Italian Chicken"

With just a little bit of "foodie" style elevated what could have been a standard Chicken and Mash dinner into something that felt much more like the experience of a meal out.  A glass of my new favourite sparkling wine certainly helped too.

Italian Herb Chicken

 2 Chicken Maryland pieces

 1 tbsp Butter

 1 tbsp Olive Oil

 1 tsp Mixed Italian Herbs

 2 Tomatoes cut into pieces ( or used halved cherry tomatoes)

 2 Mushrooms sliced finely

 1 Onion diced finely

 1 Clove of Garlic Crushed

 1 tbsp Tomato Paste

 ½ cup Chicken stock, water or white wine.

 Shaved Parmesan Cheese for Serving.

Lemon Garlic Green Beans

 1 Green Beans trimmed to similar sizes

 1 Clove of Garlic Crushed

 1 tbsp Butter

 1 Zest and Juice of a small lemon

Parmesan Potato and Cauliflower Mash

 1 Potato (medium)

 1 Cauliflower piece approx the same size as the pototo.

 ¼ cup Grated Parmesan Cheese

 2 tbsp Butter

 ¼ cup Milk

1: Preheat oven to 180 degrees

Melt the butter in a heavy based, oven proof frying pan, adding olive oil to prevent the butter burning.

Add onion and sweat until almost translucent, Add garlic, herbs and Chicken Drumsticks. Fry until the chicken is lightly golden all over.

Pour over the chicken stock, wine or water, cover and place into the oven for 20 minutes or until the chicken is cooked through. Check that the pan does not dry out. Add more stock if needed.

2: While the chicken is cooking, steam the green beans and boil the potato and cauliflower.

3: When the beans are tender, place into a small pan with butter, garlic and lemon juice. Melt to coat the beans. Keep warm until ready to serve.

4: Mash the potato and Cauliflower together with butter, milk and parmesan. Keep warm until ready to serve.

5: When the chicken is cooked, place the pan on the stovetop after removing the drumsticks to rest. Add the Tomato, Mushroom and tomato paste, stirring to pick up all the bits off the bottom of the pan. bring to a simmer until the mushrooms are tender.

6: Plate up carefully and serve with shaved parmesan and a squeeze of lemon juice.