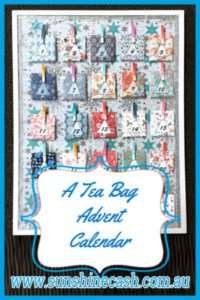 My daughter-in-law does enjoy a nice cup of tea 🙂
I came up with the idea of making an Advent Calendar with various types of teabags for her this year.
I had done a tea wrapper for my Mum for Mother's Day a couple of years ago, so I had a template for teabag envelopes on my computer.
It took me a while to play around with Photoshop and create 25 different envelopes, but I got there in  the end
You can download the instructions here

Here is how I made the board
Step 1:
Print the 25 teabag envelopes and cut them out carefully. Each little envelope has the date (1-25) and a cute "Tea Quote"
Step 2:
Cut out the matching tags that will be stapled to the teabag. I stapled on one side only so the type of tea is able to be read.
Step 3:
Fold the envelopes and secure with a little craft peg.  For my calendar, I will be displaying the large number on the outside, so each day the quote is revealed.
Here is the step by step pictures of how I did this.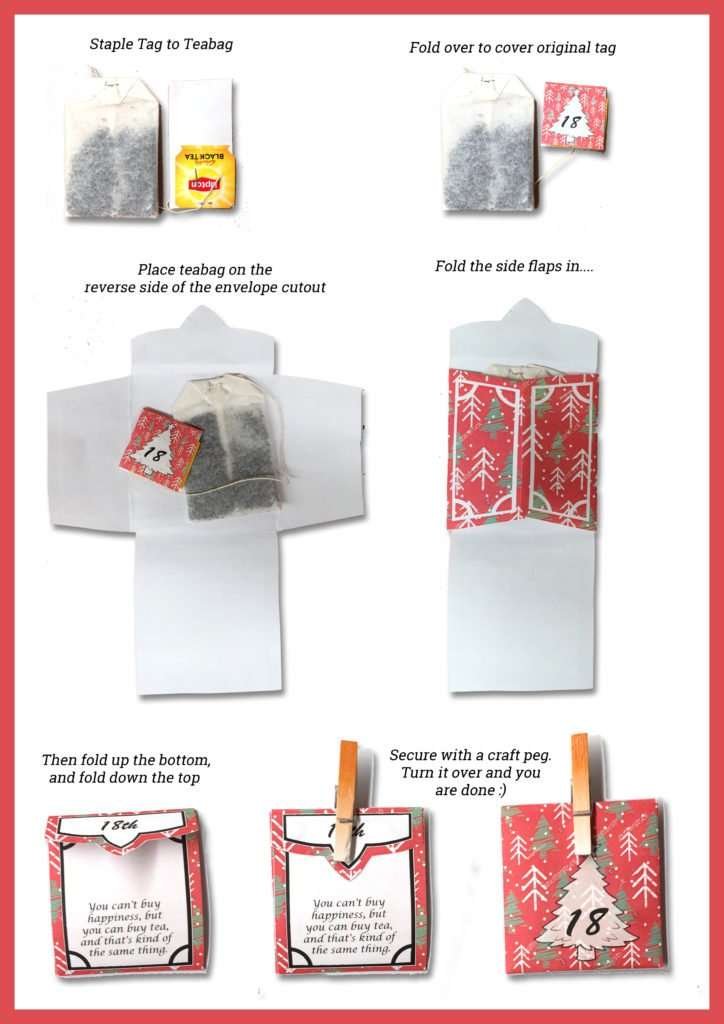 Step 4:
Make a pretty board to display the envelopes.   I bought a corkboard from the discount store and decided to cover it with Christmas-y foil.  I chose foil as I thought it would stand up to craft glue better than thin paper.
Trimming the foil proved to be a little tricky, as it had a tendency to want to rip rather than cut.  I had a nice fresh blade in my knife, but perhaps a craft scalpel might have worked better.   To cover the few tears, I edged the board with glittery silver tape.  I am pleased with the result.
Step 5:
Lay out the envelopes to get a rough idea of spacing.  Once you are happy with where each envelope goes, glue the pegs to the board with good glue. ( I used super glue)
And there you have it.. 🙂  One cute Advent Calendar with a variety of teas and a different quote each day in the lead up to Christmas Day on the 25th.
You can download the envelopes and tags from my free resources page