Earlier this week it was Valentine's Day.
Hubby and I rarely go out on Valentine's Day, as we have found in the past that restaurants are usually too busy and hence the staff overworked and really don't want to be there. We found the service rushed and the food not at its
best.
We may or may not go out for a meal on the weekend.
However, for Valentine's Day itself, I decided to prepare a three-course meal -of course on a budget- from my "Special Occasions" cookbook.
Have you seen it yet here's the link to it
It will help you create easy special occasion meals without breaking the budget anyway back to our meal.
For starters, I cooked a Chicken Ravioli in Pumpkin Soup, which is such an easy way to make a restaurant look super simple. Most supermarkets and butchers sell gourmet sausages in various flavours, so pick one that takes your fancy. As this is a starter you only need one sausage per person and use wonton wrappers as the ravioli.

Take the sausage meat out of the casing and divide into three portions from each sausage, place onto the wonton wrappers place another piece over the top, press it down firmly to seal and cut out into a nice shape. I use an egg ring and it came out the perfect size.
While you are making up your ravioli, have a big pot of water on to boil. When you're ready to go pop in the raviolis and simmer them for 8 to 10 minutes or until the sausages are cooked through.
While the ravioli is cooking. Boil the kettle and put two sachets of cup-of-soup into a heat proof jug. When you're ready to serve make up the soup, pour into some bowls, add the ravioli and top off with some chopped parsley or shaved parmesan.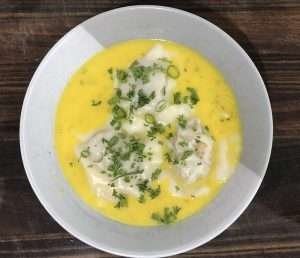 While the ravioli was boiling, I started on the main course, a chicken version of duck à la orange.
Before I get to the recipe, I must tell you the story of the chicken breast.  I went into our local Woolworths trying to get to skin-on chicken breasts as I wanted the skin to go nice and crispy, but the deli didn't have any at all but only had skin off. I had to look at the packaged meat department and again only skin off.
Then I noticed that they had small chickens on sale for just $5.00/kg so I bought a chicken and when I got home, simply removed the breasts and cut off the Maryland portions and popped them in the freezer for another meal.
Anyway, back to the Chicken.  I have made this recipe before, but not for quite some time and I have forgotten how simple it actually is. The most time-consuming part is waiting for the sauce to reduce.  It is a lovely recipe and we must have it again soon. As a special freebie, I have included the recipe here for you to download.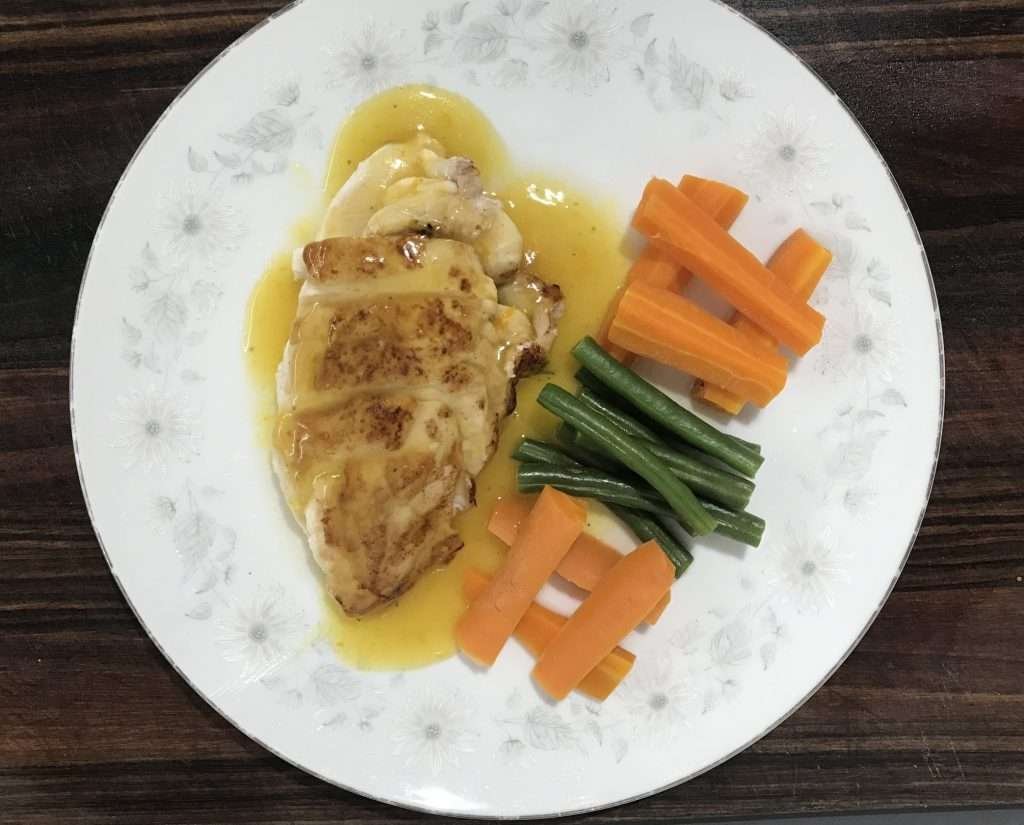 Dessert was a real supermarket cheat I simply bought Wicked Sister Strawberry Pannacotta, a punnet of fresh raspberries (only because the strawberries looked really ordinary, and I didn't think they were worth the money) and a small tub of dollop cream.
Keeping a few raspberries aside for garnishing, it was a simple case of popping the raspberries into the blender with a tablespoon of icing sugar and blitzing into a smooth sauce. I did find I needed to add a couple of tablespoons of water as it was quite thick.
The pannacotta was just placed onto a small plate with a dollop of cream, fresh raspberries and sauce. A final dusting of icing sugar finished it all off nicely.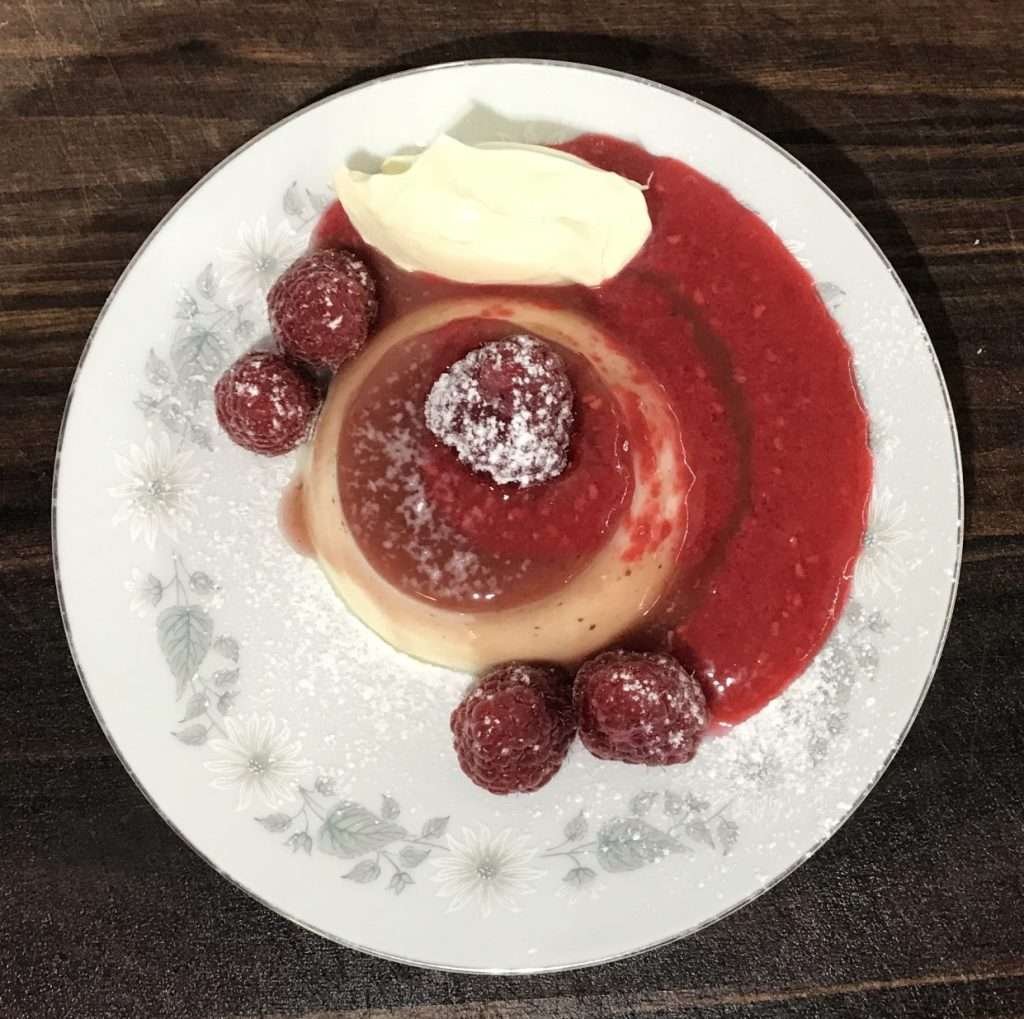 None of these dishes were difficult or costly.  I worked out the entire meal cost well under $50 for the two of us and I have the chicken marylands and the wonton wrappers left for another day.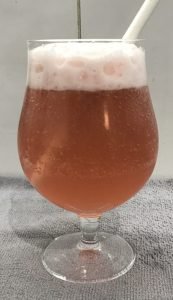 To go with our dinner, I made our favourite Mocktail of the moment a "French Martini" if you look up the ingredients for a proper French Martini, you'll find it is Chambord, pineapple juice and vodka.  Chambord is a Raspberry Liqueur and Bickford's Raspberry Cordial works well as a substitute. To make the Mocktail, I use a protein shake shaker, 1 part of cordial to 2 parts pineapple juice and give it a good shake. You want it to be nice and frothy on top. Pour into a glass and I like to top it up with soda water. It really is a very refreshing drink.
 I hope you had a lovely Valentine's Day and were spoiled appropriately.
Download the Special Occasion CookBook Now for $4.99 and have your next restaraunt worthy dinner sorted.