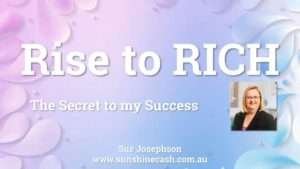 CONGRATULATIONS on your decision to join the Rise to Rich Programme.  So many people just sit in their little lives and bemoan the fact that "there must be more".  They spend countless amounts of money on lottery tickets just hoping that their world could change, but very few actually step up and do the work to make a change in their own circumstances.  The fact that you are here, proves that YOU are ready to grow and work toward the life you just know deep down inside, that you were meant to be living.
How does the course work?
The course is broken down into 4 Chapters – Each represents an area of your life to work on.
Within each chapter are modules to work through.  Each module has a video presentation, a downloadable transcript and a printable workbook.
How long will the course take?
The modules are designed to be short and sharp lessons with most being under 30 minutes. This does not mean though that this is a quick fix.  Implementing the lessons and really delving into your own life sees most people working through a chapter each week for 4 weeks.
It is important to know that there is no "right way" to do this course. Everybody's path on their Rise to Rich life is different.  You might even find a number of the exercises trigger you in some unpleasant ways. This is totally normal as you break through a lifetime of internal "programming" and pushing out that nagging little voice inside your head.
How long do I have access to the course?
FOREVER!!   You will have access to the member's area for as long as it exists.  You will find as you go along that revisiting the course from time to time is interesting to not only see how far you have come, but also what your dreams and goals are for your next rise.