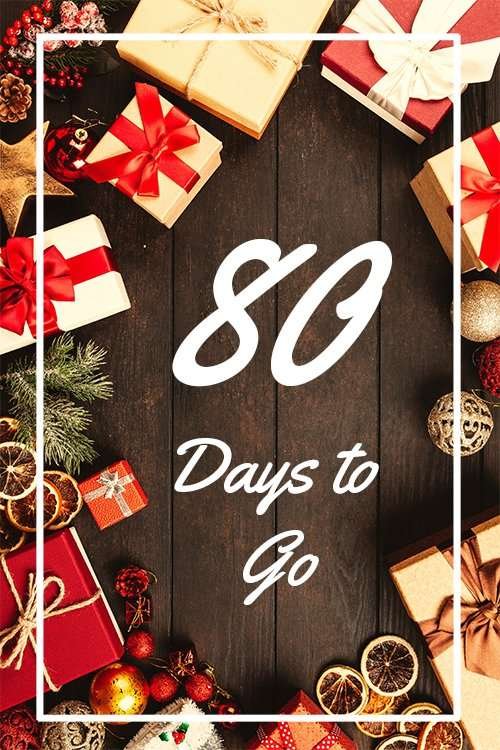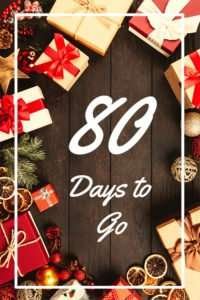 Does that number strike a feeling of panic and dread, or are you ready for the holiday season?
I have to admit, I am one of "those" annoying people who does not stress about Christmas or the cost of giving gifts.  And, yes, I have just about finished my Christmas Gift shopping.
Why??  Well because I buy all throughout the year 🙂
I am fairly lucky in the fact that we do not have a huge family so I only need to buy around 20 gifts.
My husband knows that I cannot pass by a sale table or dump bin 🙂   Invariably I see something and think "Oh! "S" would like that" or "Wow! That would be great for "M"
I have one shelf in a cupboard that we call the "present cupboard" On the inside of the cupboard door is a small whiteboard with all the names written down one side in permanent marker.
Then I fill in the gifts as I buy them in whiteboard marker.  That way it is a simple matter to erase the gifts as they get given.
I also know that some of the best gifts can be bought at a bargain price at certain times of the year.
Anything "Christmas-y" can be bought for a tiny fraction of the price just after Christmas.  I always buy Christmas paper and cards in the last week of December, often at up to 90% off.  Look for such items as paper, cards, decorations for the tree, and themed tableware like plates, bowls, glasses etc.  I like to have a supply of Christmas theme plates, cups or glasses that I can use as part of a gift.  Make a cake or batch of cookies and display them on a Christmas plate, or simply place chocolates into a Christmas mug and wrap them with cellophane.
The lead-up to New Year's Eve often brings up good specials on Champagne, Wine and other Alcohol.  It can be a good time to buy for birthdays early in the year.
January is the best time to buy stationary, school supplies and office equipment in the "back to school" sales.  This is a good time to buy plain-coloured kid's clothing and running shoes.
February is the time to buy chocolates in the after Valentine's Day sales.
March -April is Easter, and again after Easter is the time for chocolate and "Easter-y" decorations.
May is Mother's Day. This is a good time to pick up perfumes, bath sets, soaps, and kitchen appliances.
June – July is a time to keep an eye out for End of Financial Year Sales. This is often the best time to buy big appliances or cars. Any big ticket items often have sales targets to reach and you can very often drive a hard bargain the closer it gets to June 30.  Also at this time of year, the Christmas Toy Sales start with the option to purchase on a 6-month lay-by.
August is usually quiet with no major sales happening.
September is Father's Day and Football grand finals.   Father's Day is a time to pick up gift sets of male toiletries, hardware, BBQ accessories and food sets ( think BBQ sauces and rubs etc), tools, car-related things and the ubiquitous alcohol.
The last weeks of September are another time to stock up on alcohol as the stores prepare for football grand final parties.
October is the Bathurst Car Race weekend, so again there are car-related accessories on sale.
November- December brings sales in the lead-up to Christmas.
I find that by purchasing gifts throughout the year, the strain on the budget is minimal. Our family has a dollar figure to work to for gift giving, so I can regularly spend the recommended amount but give a much higher value gift – eg a $50 gift budget, can result in a $100 value when that gift is bought at 50% off.
How do you plan for gift giving?  ??