Cheats "sort of" Strog.
We are in the process of running down our freezer in preparation for 3 weeks away.    (while we are away, I will unplug the freezer and let it completely defrost, then give it a good clean out in the new year)
I have been trying to mix the contents of the freezer around a little, so we don't end up with sausages for 7 days straight 🙂    We had a fair bit of mince left in the freezer and I was looking something a bit "different" to do.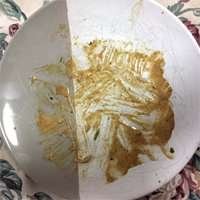 I came up with the idea of a Beef Stroganoff type dish with little meatballs – but not a "Swedish Meatball – Ikea" dish.
Obviously, by the look of this plate, it was a hit ?
So without further ado.. here is my recipe for
"Stoganoff Meatballs"