Hi and welcome to my Aussie Online Entrepreneur page for eBay and eCommerce stores in general.
As many of you know I make a good living selling in the niche of Building Supplies on eBay Australia.   As of February 2018, I have my listings on Amazon Australia as well. I will continue to ship products from our own warehouse as, sadly, my products do not lend themselves to the FBA model, (they are big, bulky and often heavy)
Just like many of you in the AOE Group, I have tried selling many different products online before settling with my current offerings.
I could sell other items, but I am happy with what I am doing right now.
I really don't want a huge multi-million dollar online business at this point in my life.
What I can do though is recognize the opportunities that Amazon, eBay and eCommerce can do to improve your life and take you to the next level of personal wealth.
To help with this , I have written eBay add-on training modules for The Aussie Online Entrepreneur Amazon course.
Firstly, it is NOT a stand alone programme.  It has been designed as side-by-side lessons for each module in the AOE training
The suggestion is to work through each of Neil's modules FIRST, then have a look at the eBay equivalent module.
Some of the eBay lessons will have nothing to add. As a lot of the basic procedures are very similar for starting both an Amazon and eBay business, it would be silly to subject you to the same information twice.
Following Neil's training you will be able to build a successful Amazon business, but why stop there? Wouldn't it be awesome to create an equally successful eBay business selling the same products and double your exposure to potential buyers and , of course, make more sales and more MONEY!!
So, what are you waiting for??  Read what Neil has to say about my course here  or click below to get started right now. My eBay Mastery programme costs is yours for 2 easy payments of $97.00  There are no ongoing charges ever.
Now is the Time to Make It
You Can Do This.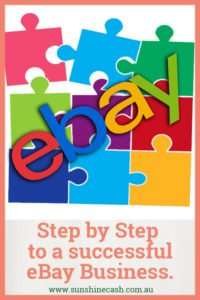 Get Started Today for Just $97.00 >>>Start NOW!
Want More?
How about 2 hours of my time just you and me 1:1
I will help you with any issues you have regarding your eBay or Amazon business.
These sessions can be broken up into a couple of sessions.
.


.
Click here to find out more. or
Even More?
How about 2 hours of my time just
you and me 1:1 EVERY MONTH!
Click here to read about my
??Diamond Membership??
to really send your business to huge heights.
Learn More
Or click here to join now and get started today!
Diamond Level Monthly Membership - $597pm
Oh and if you haven't already..come join us at the Aussie Online Entrepreneurs now ?
To get an inside peek at some of my life, check out my blog  from the HOME page link above.